After the unfortunate events that took place in El Paso, Texas, and Dayton, Ohio, Donald Trump, president of the United States, decided to make his classic comments insensitive and assured that violence comes from video games.
We must stop glorifying violence in our society, this includes the horrific and explicit video games, which are now commonplace. It is easy for many people with problems, to surround themselves with a culture that celebrates violence.
These comments aroused the outrage of the entire gamer community in the world since whenever there is a shooting, a politician goes out to replicate it despite the fact that there are no studies that relationship violence and video games.
The difference now is that the gamer community is not alone, the beloved former president of Nintendo of America, Reggie Fils-Aimé, presented data that demonstrate the great mistake in which politicians and people who believe this lie are.
Reggie posted on Twitter an inspiring story about gamers in Canada who have supported their community in an important way using video games.
When the poorly informed begin to criticize the gaming industry and its community, it becomes a very powerful story. The facts are that the countries with the highest per capita income related to video games have fewer deaths from firearms. Except in the United States, where 4% of the population has 43% of the weapons.
He then uploaded hard data regarding gun deaths and the purchase of video games.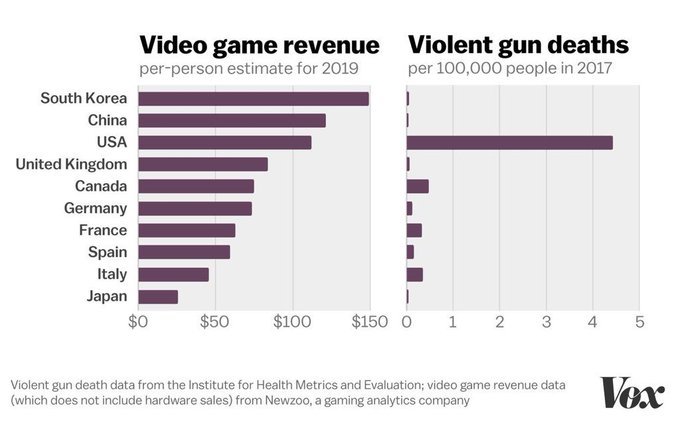 "Facts are made."
And if you still have doubts about it, there are several studies, such as the one done by the University of Oxford that showed that there is no correlation between video games and violent behavior.
The problem of violence in the United States is not something new since the legislation and the control of weapons are controlled by groups of great economic power, who prefer to lie and deceive the public instead of accepting their responsibility.